What's On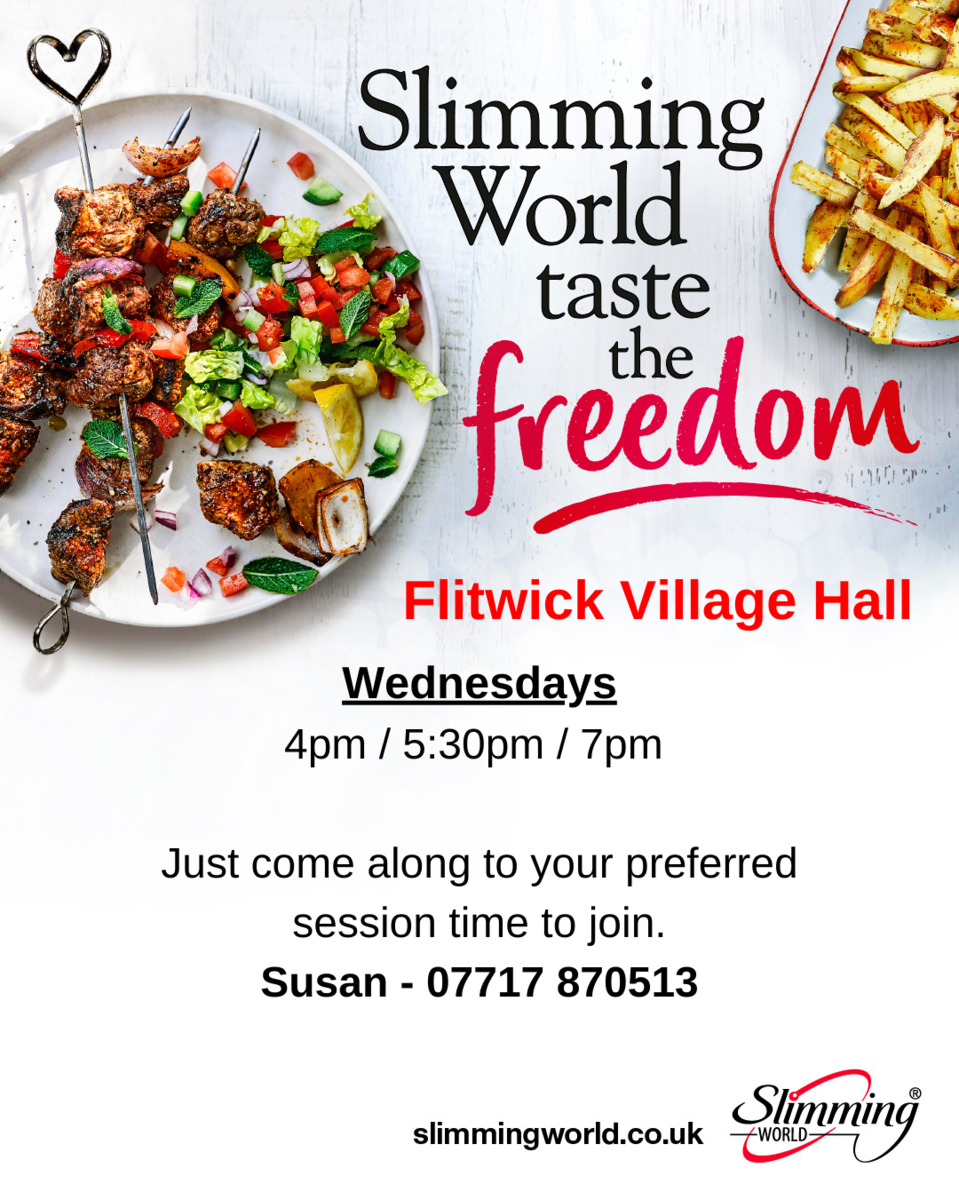 Tuesdays:
Movement and Exercise class
"Get moving - Keep moving"
Tuesday afternoon 2.00-3.00pm
At Flitwick Village Hall
Come along and join our class, which combines exercise with simple dance movements to create a workout
to improve flexibility and mobility.
No previous experience necessary and no special equipment is used – all you need is the desire to get moving.
All are welcome, just wear something comfortable and join in.
Your KFA registered teacher is fully qualified with
many years teaching experience.
For further information contact Maggie Tel 07890 603705
KFA Keep Fit Association www.keepfit.org.uk
Sound Bath
Third Tuesday of the month 7.30pm – 8pm
Come along and experience the many benefits of a healing sound bath. This one is for aligning the body's energy centres or Chakras, to promote overall wellness in both mind, body, and spirit.
This event is open to anyone over the age of 18 and is pre-booked only, please message Facebook page or email [email protected] to book your place.
Tickets are £15 per person; payment can be made by bank transfer or PayPal. Attendees will be required to fill in and return a brief health questionnaire prior to attending for the first time.
See Facebook event or email for more information.
This session isn't suitable for people with metal implants, electronic implants, in the first trimester of pregnancy, low blood pressure (unless agreed by your doctor) or people prone to fits or seizures. Tickets are non-refundable, prebooked placed only.
Wednesdays:
Anthea's
Fitness Moves Class
Wednesday @ Flitwick Village Hall
10.15 am to 11.15 am
Help to maintain and improve strength & mobility with this easy to follow exercise to music class. There are many
benefits with exercise including relieving anxiety, improving memory and so much more. Don't wait make a date to come along and join our group.
For more information contact your qualified KFA instructor Anthea 07732568268/email:[email protected]
Thursdays:
The Cameo Club:
If you are 60 years or over and would like some company on a Thursday afternoon, why not join our friendly group at Flitwick Village Hall.
We meet between 2pm and 4pm for chat, fun and games and tea and biscuits.
We also have a raffle, play bingo, cards, and dominoes, amongst other tabletop games.
For further information please call.
Sheila - 01525 713010
Transport can be arranged
Fridays:
Children's Karate run by Fusion Martial Arts
For more information contact Sam on 07548 333 500
Website: https://www.childrenskarate.uk/